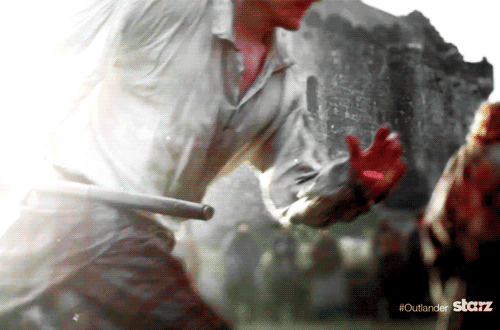 Episode 1: Sassenach Discussion Post
Questions


What did you think overall of Sam, Caitrionia and Tobias's performances?


How did you feel about the episode in as a whole?


What was your favorite scene or moment from Sassenach?


Book Fans: What was your favorite scene that came from directly from the book?


Book Fans: What was your favorite scene that seemed altered from the book?


What was your favorite line from Sassenach?


Did anyone else noticed when Claire tumbled down the hill that she lost her belt? How exactly did that happen?


Someone mentioned seeing a boy in the scenes with Frank and the Reverend Wakfield but I didn't see a boy in any of those scenes. Did anyone?


Was there a scene or line that felt confusing to you?


How did you feel about Claire/Caitriona's voice overs? Good or Bad?


Favorite Lines


Dougal says "I doona hold with rape. Beside we dunna have the time." - something like that.


Favorite Moments


I love how all of Dougals men look at Claire and then look at her legs because they're not used to seeing women exposed like that.


When they come to the ambush it's shocking to watch Jamie just dump Claire off the horse but the same time it was kind of funny.


Some Thoughts


Honestly watching Sam play Jamie just seems exactly like the Jamie that is in my head even though I wasn't sure he would really feel like that when I watched it.


I love when Jamie says that his arm doesn't hurt anymore it's almost like you see the youth in him.


I think my favorite scene is when Jamie falls off a horse and Claire is bandaging him. I also like when it's just the two of them talking and he mentions Randall and then she helps him up but then she quickly pulls her hand away from him and calls him soldier like she would somebody in her care during World War II.


No I should amend that. I think my favorite moment in Sassenach is when Frank comes upon the ghost staring up at Claire. Gave me chills.


Comment and ask questions of your own if you have them?
Remember to use Spoiler Cuts for anything that comes after this episode!

Feel free to repost: this will bring Outlander fans together whether they find this on your journal or here at OW.