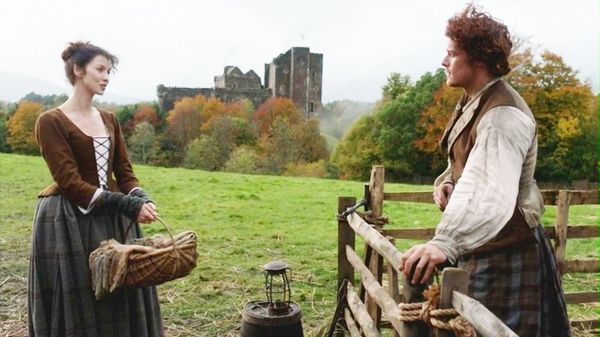 Let's discuss... remember we need to stay with the information we have as of episode 2 so talking ahead unless you use the spoiler cuts.


What were your first impressions of Mrs. Fitz?


Did the sight of Jamie's back upset you as much as it did me? Don't you just hate Randall more for the whole Jenny scene?


The looks when Claire mistakenly suggests that Hamish is Dougal's son and not Colum? What is that about?


What was your favorite scene?


Any scenes or moments that seemed confusing?


What did you think of Claire confronting Dougal?


What did you think about Jamie taking Laoghaire's (Mrs. Fitz's granddaughter) punishment?


Thoughts on the end?


Favorite Line/Scene


Claire's whole discussion with Colum about rape.


Claire being surprised Jamie's eaten grass.



Quick Recap
Claire is now at Leoch, we've met Mrs. Fitz and Jamie tells his story when Claire discovers his back is horrifyingly scarred. Claire get's a proper make over for the time period and has to explain what a bra is and then is off to meet Colum (Claire tells us he sufferes from Toulouse-Lautrec Syndrome) to give her story and asks for transport to Inverness which she's told would take place in five days. She observes Dougal playing with a child in the bailey and then at dinner, while Colum is plying her with drink and asking her questions, she makes the assumption that the boy is Dougal's son and comes to find out the boy is Colum's. She discovers Jamie has been sent off to the stables and goes the next day to change his bandage.

Here she learns Jamie is wanted for a murder he didn't commit and that his last name is not McTavish (though she doesn't find out what his last name is yet). She also learns Jamie's eaten grass which was cute in the show but much better in the book. When Claire heads back to the castle she realizes Rupert is following her. She goes to confront Dougal who tells her he thinks she's a spy! Plot twist. Claire essentially tells him her life is boring and follower her all he wants but that he has only until Saturday when she leaves, which he knew nothing about. Sowing the seeds of mistrust between the MacKenzie brother's Claire?

Claire then goes out gathering medicinal plants and meets Geillis Duncan who in my opinion seems rather witch like right there. Her giggling, I think is meant (by the character) to disarm and make her seem innocent and yet I felt creeped out. Claire and Geillis attend Hall where we watch Jamie take the punishment for a girl being accused of loose behavior, who also turns out to be Mrs. Fitz granddaughter. While Claire cleans Jamie up she tells him she is going to be leaving the next day and Jamie seems to get a little chilly.

Next morning, Mrs. Fitz is seeing Claire off when Dougal appears and tells her Colum wants to see her. He takes her to the "Troll Home" Frank and Claire found while exploring and is told it used to be the healers surgery and Colum wants her to take the job because he's not letting her leave.