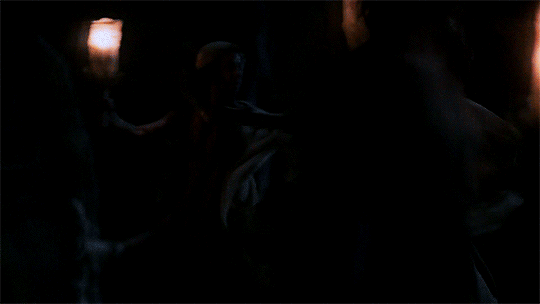 As always, all book talk that doesn't pertain to the episodes we've seen is a SPOILER. Please use the SPOILER cut below.
Quick Cap:
Murtagh tells Jamie the Duke of Sandringham is in the vicinity and he might be able to get the charges against Jamie pardoned. Claire warns Jamie about the Duke but also takes some actions of her own in hopes of securing Jamie's pardon.The Duke gets Jamie involve in his duel which ultimately leads to a brawl with the MacDonalds.
Claire and Laoghaire have it out about Jamie and Laoghaire gets Claire's hand after a rather crude remark.
Claire finds Geillis in the woods performing a "Summoning" and realized Geillis is pregnant. Geillis tells Claire the child is Dougal's. Not much later Dougal's wife Moira dies and Dougal is beside himself prompting Claire to be summoned to drug him. Geillis plans seem to be going further when Arther Duncan dies and Claire realizes he's been poisoned.
Both Dougal and Jamie are the subject of Colum's ire and Colum sends Dougal away to his estates with Jamie along as his babysitter being forced to leave Claire behind at Leoch. Claire is then summoned to Geillis's side only to discover Geillis never sent for her but it is too late as the Wardens come to arrest Geillis for witchcraft and take Claire up as well. As Claire is being taken away she sees a pleased Laoghaire.
Discussion Points:


JHRC so much happened in this episode! What was your favorite turn of events or surprise of the episode?


Are you now convinced Jamie is an excellent lover?


What did you think of Laoghaire's part in this weeks episode and what did you make of Laoghaire being outside of Geillis's house when the wardens came? And Claire slapping her and not seeming sorry at all.


What did you think of the similarities between Geillis's dance and the druid dance from the first episode Sassenach?


What do you think about Arthur and Moira's deaths and Geillis's surprise pregnancy and affair with Dougal?


Am I the only one who thought Colum seemed to be overreacting about Jamie's involvement in the duel? What about his anger towards Dougal?


What did you think of the Duke and Claire's own plots to ensure the Duke's assistance?


Copy Questions to Answer...
Feel free to pose anything else you wish to discuss from this episode or previous episodes. No spoilers please!
Noteworthy:
I hope everyone is enjoying the discussions. You opinions are always welcome and remember just because we disagree doesn't mean we don't love talking about it!
Amazon seems to already be on the Outlander band wagon. You can go
HERE
to see information on the second half of the season as they already have it listed for pre-orders.
Walker's Shortbeard is also giving away a trip to Scotland in honor of Outlander. You can check it out and enter
HERE
.
And McClelland's Single Malt Whiskey is giving away a Whisky tour of Scotland
HERE
.
Also, there is some talk about casting for the second season. The talk is about specific characters and I hope to post that later but should you like to know more now you can head over to our
Facebook Page
!
Oh and this is noteworthy too:
Outlander 110: By the Pricking of My Thumbs
Any behind the scenes footage will be added to this playlist.
Next Week On Outlander:
Spread The Conversation by reposting to your journal and get other fans involved.