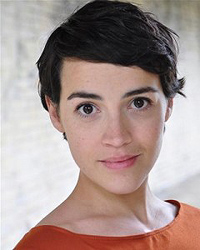 "News came this evening that Audrey Brisson has joined the second season of Outlander in the role of Sister Angelique. TV Wise reports that this is a guest starring role, but with the potential to reappear in other episodes.
Sister Angelique will no doubt be one of the nuns present in the L'Hopital Des Anges in Paris. This is the hospital that Claire begins to volunteer at after Jamie and Claire move there. Sister Angelique first appears in Chapter 12 of Dragonfly in Amber. She is described as short, with a plump features and a pudgy face. I think it is safe to say that she will not fit the physical description of the character."

READ MORE

I vaguely remember this character and do not remember he being much of a supporting character in the books. However, we've been told the second season will deviate more from the book (Dragonfly in Amber). I'm interested in where the seeming important casting of passing characters will take us.