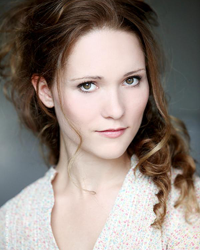 We have a new Claire... kind of. This is Claire Sermonne who will be playing Louise de Rohan in the second season of
Outlander
.
For those who know nothing about her she is the representation of a historical figure by the name of Marie Louise de La Tour d'Auvergne who later married a man named Jule Hercule Meriadec de Rohan, who I assume we will see in the second season as well.
[
Spoiler (click to open)
]
SPOILER WARNING
Louise, in real life and in Dragonfly in Amber, is having an affair with Charles Edward Stuart or Bonnie Prince Charlie.
The historical figure, who also appears in Diana Gabaldon's
Dragonfly in Amber
, is a frivolous and animated member of the French Court. Claire befriends Louise during her tenure in Paris, and although the two women come from completely different worlds, they strike up a genuine friendship.
Sermonne is a graduate of both the Conservatory of the Dramatic Arts in Paris and the Moscow Art Theatre, where she trained in theatre, song, and dance. She starred in the Russian TV series
The Rights and Laws
.
IMDB
|
Facebook